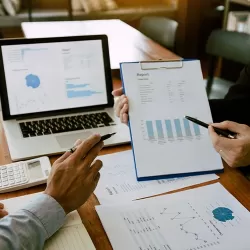 At Konty Financial Services, we focus our efforts on providing sound and unbiased financial advice to our clients. We provide personalized investment management services for a diverse group of clients including individuals, family trusts, foundations, endowments, profit sharing and pension plans.
In order to build the right portfolio for you, we start with a thorough analysis of your lifestyle, goals and individual objectives. We'll help you determine what you want and need for yourself, for your family, and the future. Your portfolio will be flexible, responsive, and true to your goals.
We'll help you achieve long-term investment goals, provide long-term protection for your family and minimize estate tax burden. Our monitoring process is ongoing and dynamic in order to capture the impact of the global capital markets on our portfolios. Our investment management includes
Investing your wealth to help achieve your critical objectives
Holding and transferring your wealth to help preserve its full value
Leveraging your wealth to expand your ability to reach your goals
Organizing and simplifying your wealth so you can make better use of your time
Providing specialized advisory services to help optimize your wealth in all its dimensions
Low Cost & Diversified Portfolios
Konty Financial Services creates and manages specialized investment portfolios for clients based on their unique long-term objectives. Our goal is to help you harness the power of the market through low cost, globally diversified portfolios and maintain a long-term perspective. 
With a focus on rigorous analysis and prudent selection of stocks, bonds, and mutual funds, we build customized portfolios for each client account based on their specific objectives and risk tolerances. This tailored approach to portfolio construction keeps clients focused on long-term preservation and growth of assets, not daily market fluctuations.
We integrate planning with investment management and develop customized portfolios to meet your family's goals and objectives. From preparing for college to successfully planning for retirement, our firm is here to help you, your family and your finances move toward retirement with more confidence.
Flat Fee Wealth Management
Flat fee investment management is helpful for many types of investors. Regardless if you have been doing it yourself for decades, or just want to make sure you're on track, we can help. And, if you want to maintain control over your own portfolio, we don't require you to let us manage your investments for us to work together.
At Konty Financial Services, we follow principles and strategies that help you to put together an investment portfolio that reflects your risk tolerance, time horizon, objectives, and goals. We believe that you deserve experienced guidance - which is why we've designed a wealth management experience that is focused on your financial goals.