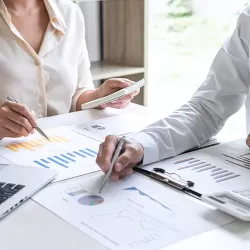 Our first priority is helping you take care of yourself and your family. We want to learn more about your personal situation, identify your dreams and goals, and understand your risk tolerance. At Konty Financial Services, our mission is to educate our clients on financial strategies for retirement, help protect their accumulated assets, generate income, and implement strategies to help reduce or eliminate unnecessary taxes. 
Whether your goal is preparing for retirement, college savings, or estate strategy, our personalized service focuses on your needs, wants, and financial goals and objectives. Our professionals have years of experience in financial services. We can help you address your needs for today and for many years to come. We look forward to working with you through all stages of your life.
Our team will help you create a plan to meet your financial goals and upcoming life transitions. We'll provide recommendations on investments you may need to make to achieve your goals. And we will provide the framework and accountability to make sure you stay on track with your goals.
Comprehensive Financial Planning Services
We provide guidance in taxes, investments, goal setting, record keeping, insurance and estate planning. We help you set realistic goals, and then provide you with the tools, and coaching, necessary to achieve them.
Konty Financial Services is a fee-only financial advisor. We have no products to sell, only our services. We do not sell stocks, bonds, mutual funds or insurance, therefore, we earn no commissions whatsoever.
The goal of our approach simplifies and brings order to your financial life and saves you money on taxes and on investment expenses. We use proven investment techniques to work to minimize risk and maximize return.
A sound financial planning process should free up your time from worrying about money to enjoying all the things in life that are important to you. We help you organize your financial life, address your entire financial landscape, and continually monitor your progress as you work toward your goals. We focus on helping you make financial decisions and serving as your financial advocate and partner.